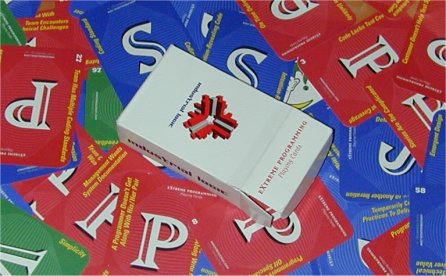 We're pleased to announce the world's first deck of Extreme Programming Playing Cards. We created this 100-card deck to help people refine their understanding of Extreme Programming, improve the way they practice XP and have fun learning.
The deck consists of Problem, Solution, and Value cards, each of which has one letter on it:
P = Problem Card
S = Solution Card
V = Value Card
There's also a Joker since every deck must have a Joker!
Explanations, XP War, Retrospective Roulette and Value Squares are educational games you can play with your deck of cards.
We're working on new games all of the time and if you invent a game or give us valuable feedback on a game, we'd be happy to send you a gift, such as a deck of our Design Patterns Playing Cards.
Games
Here's a list of games you can play with your deck of Extreme Programming Playing Cards: