The other day I was fortunate enough to be with my girlfriend and her sister on a gorgeous September day at a pool. We were enjoying the sun on lounge chairs and taking dips in the pool when it got too hot. One of my daughters and her friends had joined us. Suddenly I realized that my dogs back at home needed an afternoon walk! But I didn't want to leave the pool. What to do?
This is when I decided to give a dog walking service a try for the first time. A colleague at work had told me about Wag, an app that provides dog walkers on demand. I'd also heard the prices and wasn't sure it was for me. However, I had no interest in leaving the pool so I decided to give it a try.
After downloading the app, I prepared myself for an awful signup process, since most of them aren't fun. I particularly dislike adding in my credit card number and choosing some plan I will likely cancel. I was expecting a similar awful experience with Wag and I was pleasantly surprised that it was simple and easy. They didn't ask for my credit card or force me into some plan and my first dog walk was free.
During the signup process, I told the app about my two dogs (names, ages and breeds), and the door code to my house. Then I sat back on my lounge chair and waited. The app soon told me that a graduate student named Jennifer was going to be walking my dogs within a few minutes. It showed her excellent ratings by satisfied Wag customers. Jennifer soon called with a question which we resolved quickly.
The dog walk began and to my amazement, the app showed me a map of where Jennifer was walking my dogs! Soon after that I began to see little icons about where my dogs had urinated. I laughed and showed my friends. All of this was happening because I'd downloaded an app just minutes earlier. When the walk concluded, there was a photo of my two happy dogs.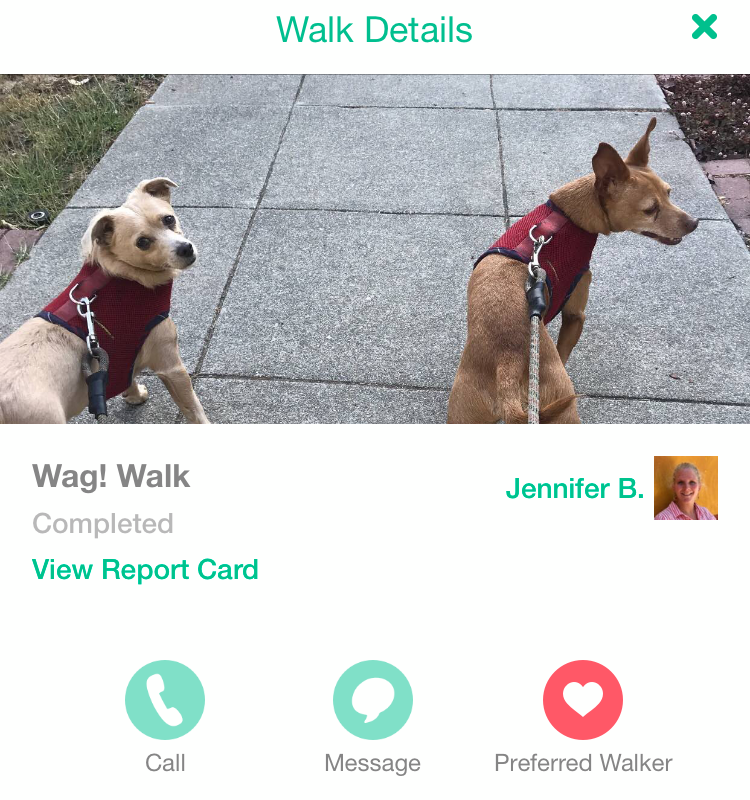 Modern Agile has a principle called Make People Awesome. Wag had just done that for me. They had empowered me from a poolside lounge chair to take care of my sweet dogs. I didn't have to leave my guests, my daughter or her friends.
The service was flawless. It enabled me to get my dogs walked with quick easy grace. I ended up pulling my credit card out to give Jennifer a tip because I was so delighted.
Making people awesome means delighting people. Delighted customers tend to promote your business. I'd heard about Wag from my colleague at work, who was delighted by the service.
Delighting customers is excellent risk management. It's also excellent marketing. I didn't interview Jennifer yet it was clear from her profile that she loves dogs and enjoys taking breaks from school work to walk dogs. She even sent me a note saying how sweet my dogs are.
Are you delighting your customers? That's the idea of modern agile's first guiding principle, Make People Awesome. It guides us to help our customers have a better life.