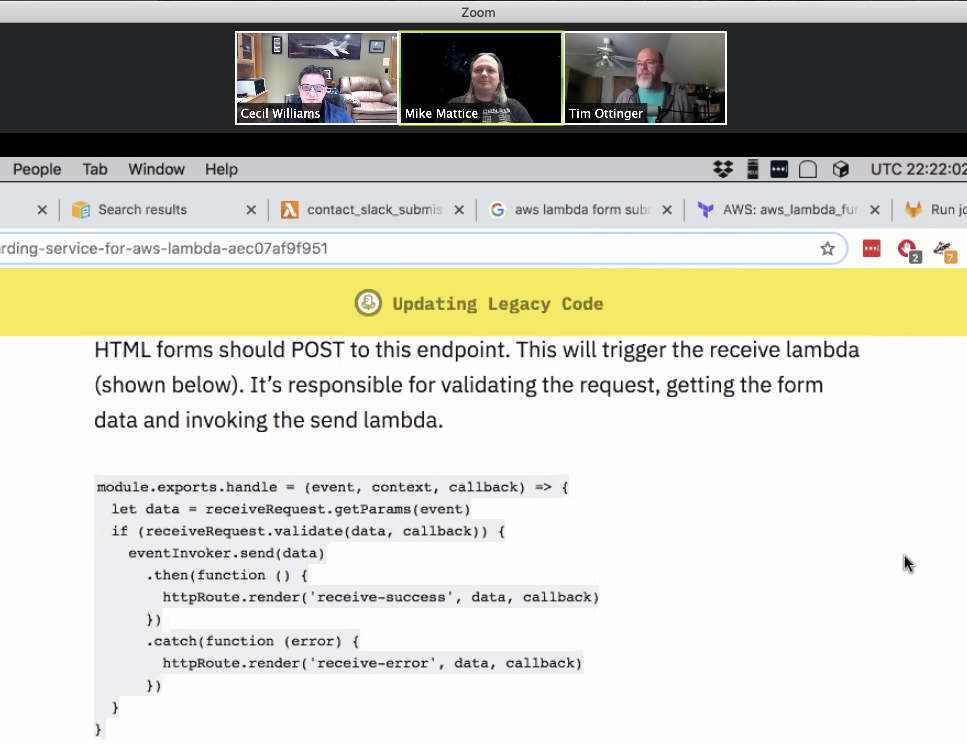 With the 2020 outbreak of the Coronavirus, many companies are implementing work-from-home policies. If you are a team that is suddenly converted from being co-located to distributed, here are some tips on staying productive.
Team Charter
First, this might be a great time to review the team charter.
When the team becomes distributed, it can be easy to lose sight of the vision and mission of the team. Take the time to schedule a team charter review session. Is the team vision or mission old and out of date?
Now is a great time to adjust the team vision and/or mission. If you don't have a team charter, now is also a great time to establish one. The Modern Agile website has a great chartering cheat sheet.
Working Agreements
What about your working agreements? Do you have any? Teams that have working agreements are more productive, especially when the team is distributed.
Establishing working agreements among the team allows everyone to have a say in how the team operates.
Working agreements can help the team focus now that everyone is remote. For example, you can work on improving your team meetings. Consider agreeing to be more CLEAR in your meetings.
Working agreements can establish core-hours that the team agrees to work. This is important to a newly-distributed team where team members may never have experienced working from home. If you have never worked from home you may be tempted to focus on things other than work such as Facebook, Netflix, Fortnite, etc.
The team can also agree on how they will work: remote pairing, remote mobbing, or collaboration via an instant messaging platform. The team might decide to move the daily standup/scrum to an earlier time since no one has to commute.
Equipment
Working remotely works better if you invest in proper equipment.
If you are working remotely for just a day a week, using the built-in microphone and camera of your laptop is sufficient. And a few hours in a non-ergonomic chair at the local coffee shop or kitchen table is tolerable.
If you suddenly find yourself working from home every day you should invest in your equipment. Hopefully, companies will cover these expenses. Improving your equipment will ensure you have a safe environment that maximizes your productivity.
Desk/Chair
Consider replacing your desk with one that can raise/lower. Standing is one of the best things you can do while you are working as discussed in a previous post. An example of a good desk can be found at Costco. For sitting, make sure you have a good office chair. A good chair has adjustable height, arms, and lumbar support.
Internet Connection
Having a fast internet connection is crucial. Working remotely will require you to use video collaboration tools that use a lot of bandwidth. This is why working from a local coffee shop is not always recommended. Besides the noise, you are using public wifi that is probably not very fast. There is nothing more frustrating than having someone's audio or video randomly drop out.
Microphone
If you are pairing or mobbing remotely, this is a must so that everyone can understand you clearly. You need a USB microphone.
Most good microphones only pick up sounds directly in front of the microphone (a "cardioid pattern"), reducing typing noises, household noises, and the sound of passing cars.
Good examples are the Jabra Speak, the Blue Yeti, or the Audio-Technica ATR2500-USB.
If you are using headphones or earphones, be sure they have a built-in microphone. The headphone or earphone microphone will sound much better than the built-in laptop microphone.
Speakers
Built-in laptop speakers, headphones, or earphones generally work fine for a short time, but it is hard to wear headphones or earphones all day. Since you are going to be working remotely all week, you should invest in good speakers.
One needn't purchase audiophile-quality speakers or studio monitors; you will be primarily listening to human voices rather than cinematic soundtracks. Subwoofers are optional too.
A relatively inexpensive set of desktop speakers will be more than sufficient.
The Jabra Speak is nice because it can also be used as the speaker if you are home.
If you invest in speakers your ears will thank you.
External Monitor
Another piece of equipment to consider is an external monitor. Most of us have a dual monitor setup at our company desk. Going from multiple large monitors to just your laptop screen can be difficult and frustrating.
You can obtain a large external monitor for a very reasonable price these days. Adding an external monitor will help avoid eye strain and neck strain from your new work environment, especially if you raise the external monitor to eye level.
Just make sure that your monitor connector is compatible with your laptop. More recent Mac Book Pro computers have only USB-C connectors, in which case you may need USB-C to HDMI connectors.
Remote Pairing/Mobbing
You can do pair-programming or mob programming with your newly distributed team. Industrial Logic has coaches all over the country and has been doing remote pairing and mobbing for years with great success.
When pairing or mobbing remotely it is important to have both an audio and video presence. You want to maximize the collaboration as much as possible.
Remote pairing or mobbing works best if everyone is distributed. Having only some team members remote is not recommended. The remote teammates may miss out on side conversations, whiteboard discussions, etc. So if some members of the team are not remote, they should join as if they are remote so that everyone has the same experience.
If you were already pair or mob programming, you can continue to use the same techniques. The Pomodoro, ping-pong, driver-navigator all still apply and work well. If you are mob programming, consider a timer tool such as Mobster.
You can use a desktop sharing tool to work on one machine. Currently, Zoom works best for us. If you are using Visual Studio or VS Code, Live Share is a great option. If each person has a very unique setup, consider push-pull. Work on very small commits. Push frequently and switch the driver-navigator after each push.
Guidance
All of this may seem overwhelming. Industrial Logic is here to help. Our coaches have significant experience coaching and participating with distributed teams. Contact us if you would like some assistance.